Shawn P. McNair
Luv me some cabrito!
Hello! and welcome,
My name is Shawn. I am the proprietor of Texas Butter. I built this company to be able to provide you with fresh all natural quality sauces. We are building within Texas Butter and all our products are made by us in-house. Yup, picked, cut, and cooked the day you order, Texas Butter is just about as close as we can get to making a homemade sauce in your kitchen. It is a fun company to build and especially gratifying knowing you're getting products made with love.
Most if not all of our products were conceived from a particular moment in life eating something. General questions in my head were:  What would make this better? What are all these chemicals? Why has this 10-year-old sauce not gone bad? Our "Original" hot sauce recipe is based on my great uncle around 1945-ish. I have modified it to use jalapenos and a bit more garlic.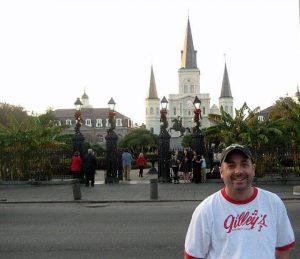 The name Texas Butter came to mind mid-1990's. It stayed there as a "good idea" for years until I finally had somewhat of a map for Texas Butter's destination. July 23, 2009, Texas Butter was officially founded.
My family used to always have pickled or vinegar-based condiments around the table. It could be anything from olive salad to plain white onion diced in a mason jar covered in vinegar. When there was no cable (Food Network) there was PBS. I used to watch various cooking shows like Julia Child, Justin Wilson, Yan Can Cook, and even ole Jeff Smith on The Frugal Gourmet. Essentially all these little elements of life, food life snowballed. You know that kid that always says why? Why this? Why that? I was probably that kid.
Texas Butter started with just five products. Four pepper based vinegar hot sauces Original, Smoked, Mango, and Habanero. Then the fifth one is the Cottonmouth a dry rub. This was done because we knew jalapeno hot sauce didn't have a large or broad need. Early on it was clear there was a lot more to learn software wise. I barely knew how to email when this venture started, luckily programming/computers interest me.
We have a lot of recipes waiting to tweak and new products waiting to list. We hope to get these out ASAP, however, whether it's one bottle or 100, paid orders always move to the front of the line. So saying "new products next week" is not in anybody's favor. If you see a product listed with no price you know we are fixing to drop it real soon as this is the end of getting a product out.
At this time we only accept U.S.A. orders. Sorry Canada it's a legal thing, but you can friend me on the socials 😉
We work hard to combat fraud, spam, and hacks. We will need to know where to ship products to and a CC number to charge orders. If no account is created this data will be destroyed in approximately 31 days or until we are settled with the order.
Although it has been a long road we have enjoyed the triumphs and falls. Often the falls create the triumphs and believe me when I say the internet is full of yin/yang. Our main goal is to be the best we possibly can for our customers.
We will do our best to make you 100% happy with the deal.
We value your input because we are built for you.  If you have any questions, comments, or concerns please contact us here. Contacting us via socials is fine too but we only monitor/login once or twice a day.
Have a Great Day! – Shawn
Proudly Made In: